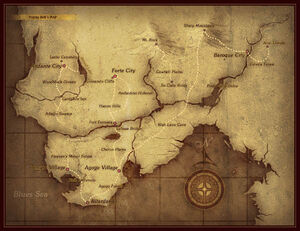 "Everything around us is all a part of my dream. Even you are just a product of my imagination."
—Frederic tells Polka that he believes everything around him to be part of a dream he's in.
The World of Eternal Sonata is the world in which the majority of the events of Eternal Sonata take place. It is separate from the "real world" in which the body of Frédéric François Chopin lies on his deathbed at Number 12 Place Vendôme in Paris, France, and trapped in a cycle of destruction and rebirth. Frederic travels through this world, which he believes to be entirely his dream, hoping to find some way to save Polka, whom he likens to his late sister, Emilia.
Locations
Edit
The World of Eternal Sonata is made up of many towns, smaller villages and various prairies, bodies of water and other landmarks. It is generally split up into two regions, the kingdoms of Forte and Baroque. The Andante region is technically claimed by Forte, but is home to the splinter group Andantino.
Andante region
Edit
Rupture in Space
Edit
Ad blocker interference detected!
Wikia is a free-to-use site that makes money from advertising. We have a modified experience for viewers using ad blockers

Wikia is not accessible if you've made further modifications. Remove the custom ad blocker rule(s) and the page will load as expected.