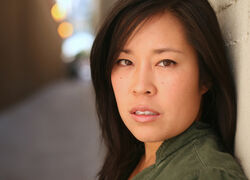 Stephanie Sheh is the English-language voice actress for Princess Serenade in the game Eternal Sonata. Sheh is a prolific voice actress whose works include numerous video games titles such as Aion and games in the Resident Evil series, and animated works ranging from Lucky Star to Care Bears: Welcome to Care-a-Lot. She was born April 10, 1977 in Los, Angeles California, and educated an the University of California in Los Angeles.
Selected works
Edit
Secret Millionaires Club
Wolverine
Naruto: Shippûden
Tales of the Abyss
External links
Edit
Ad blocker interference detected!
Wikia is a free-to-use site that makes money from advertising. We have a modified experience for viewers using ad blockers

Wikia is not accessible if you've made further modifications. Remove the custom ad blocker rule(s) and the page will load as expected.