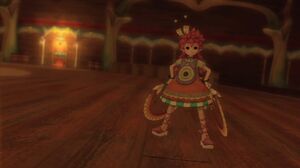 Notable quotes related to the playable character Salsa


"It's one crazy after another with you people."
" I have been a guardian of Agogo Forest since the day that I was born. This is the first time I've come to a city like this."
"Hey, hold on now. This guy doesn't even have a hook or an eye patch. Hmph. There's no way he's a real captain!"
"Eye patches and hooks are pirate's trademarks! They'd be naked without them! They can't help it if it makes them look stupid!"
"Look! I got the ultimate treasure!"
"Me? I never cry! The only time I ever tear up is from the beauty of a perfect sunset!"
"Third place is a bronze medal! Not bad at all!"
"That's the last straw, three-eyed freak! ... You better believe I'm talkin' about you! Go on and whine as much as you want, three-eyes, you're still gonna get it!"
"The best way to fool your enemies is to start by fooling your friends!"
"If you're takin' pictures, ya better not miss any of the amazing stuff I'm gonna do!"
"If anyone tries something in our forest, I'll teach 'em a lesson they won't forget!"
"The end of the journey? Well, I really don't know. But, I'm sure that the road does lead to somewhere."
"When one thing comes to an end, something else starts up right after. That's what they call the natural order of things."
Ad blocker interference detected!
Wikia is a free-to-use site that makes money from advertising. We have a modified experience for viewers using ad blockers

Wikia is not accessible if you've made further modifications. Remove the custom ad blocker rule(s) and the page will load as expected.