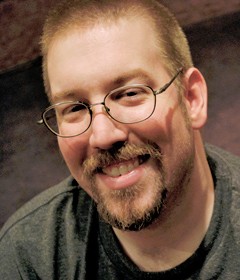 Patrick Seitz is a U.S.-born voice actor who is known largely for his roles in video games and anime, and who has also served as a voice director or script writer for a number of series. In the English-language version of Eternal Sonata, Seitz provided the voice of the main protagonist, Frédéric François Chopin. Seitz is more greatly known for other sorts of roles and his performance as Chopin in Eternal Sonata is said to be greatly against type. His recent work includes voices of various characters in the video games Ninja Gaiden 3 and Final Fantasy XIII-2 and the voice of Stan David in the show Blade and those of a number of characters in Naruto: Shippûden.
Seitz was born David Patrick Seitz on March 17, 1978 in Riverside, California, U.S.A. He previously worked as an English teacher at his high school alma mater.
Selected works
Edit
Street Fighter X Tekken - Bob Richards/Hugo Andre
StarCraft II: Wings of Liberty - Artanis/Additional voices
G.I. Joe: The Rise of Cobra - M.A.R.S. Security Trooper / Black Viper
One Piece: Unlimited Adventure - Franky
Romancing SaGa - Prince Neidhart/Additional voices
Monster - Wolfgang Grimmer / Grimmer / Telephone Reporter and Casting Director
Boys be... - Yoshihiko Kenjo
Starship Girl Yamamoto Yohko - Fuligar
External links
Edit
Ad blocker interference detected!
Wikia is a free-to-use site that makes money from advertising. We have a modified experience for viewers using ad blockers

Wikia is not accessible if you've made further modifications. Remove the custom ad blocker rule(s) and the page will load as expected.