"Oh! I guess I took longer than usual. Mom's probably worried about me. I'd better get home before it gets dark."
—Polka begins her journey home to Tenuto Village.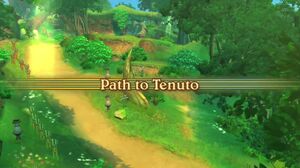 The Path to Tenuto is a path in the World of Eternal Sonata connecting a cave in the city of Ritardando to Tenuto Village. Polka travels along this path to return home following an unsuccessful visit to the city to sell floral powder.
After the opening cutscenes, the game of Eternal Sonata opens with Polka traveling along the Path to Tenuto. She comments that it's later than she thought. As she moves along, she encounters monsters and reviews the basics of fighting. Before finally reaching the village, she has a flashback regarding the events that happened to her in Ritardando.
Peach Cookie
Peach Cookie
Behind the scenes
Edit
If the player attempts to have Polka exit to the Ritardando cave in the game's opening, she will comment that she needs to get home.
In Chapter 2, the player can travel along the path as Allegretto to revisit Tenuto Village.
In an Encore Mode playthrough, this area can be revisited in Chapter 6 or 7, though there is nothing else to do there. Once the player has cleared this area with Polka, they need never visit again if they don't desire to.
Musical theme
Edit
The musical theme for Path to Tenuto is "A Relaxing Place." This is Track 4 on the first disc of the game's original score.




Walkthrough
Edit
A full and concise walkthrough of this area can be found at http://strategywiki.org/wiki/Eternal_Sonata/Chapter_1:_Raindrops#Path_to_Tenuto
Ad blocker interference detected!
Wikia is a free-to-use site that makes money from advertising. We have a modified experience for viewers using ad blockers

Wikia is not accessible if you've made further modifications. Remove the custom ad blocker rule(s) and the page will load as expected.