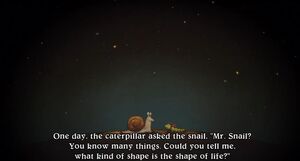 Mr. Snail is one of two characters seen within the omake (extra) "Shape of Life" featured at the end of Eternal Sonata if the player waits about a minute after "Fin" appears on-screen.
Mr. Snail is a wise snail whom Mr. Caterpillar decides to consult for advice, asking him what the shape of life is. Rather than giving Mr. Caterpillar a straight answer however, Mr. Snail instead speaks of the color, scent, sound and taste of life. Irritated at not getting the answers he want, Mr. Caterpillar leaves in a huff. Afterwards, Mr. Snail states to himself that Mr. Caterpillar already knew the answer: that life can take on many different shapes.
Ad blocker interference detected!
Wikia is a free-to-use site that makes money from advertising. We have a modified experience for viewers using ad blockers

Wikia is not accessible if you've made further modifications. Remove the custom ad blocker rule(s) and the page will load as expected.