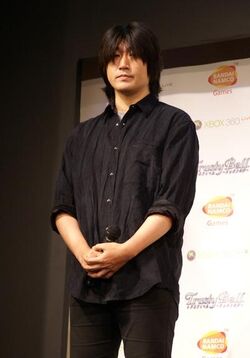 Motoi Sakuraba (桜庭 統, Sakuraba Motoi?) is a prolific composer who has composed for video games, animes and television dramas. His work includes the Baten Kaitos series, Valkyrie Profile, Star Ocean and a vast majority of the Tales series. A Japanese native, he was born on August 5, 1965. He has held a number of live performances of his works.
He composed all of the original music featured in Eternal Sonata, including the game's ending theme, "Heaven's Mirror."
Selected works
Edit
Tales of Graces franchise
Golden Sun franchise
Mario Sports franchise
Resonance of Fate
Hot Shots Golf
Radiata Stories
External links
Edit
Ad blocker interference detected!
Wikia is a free-to-use site that makes money from advertising. We have a modified experience for viewers using ad blockers

Wikia is not accessible if you've made further modifications. Remove the custom ad blocker rule(s) and the page will load as expected.