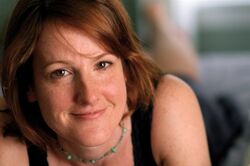 Megan Hollingshead, also known as Karen Thompson and Kelli Kassidi, is the English-language voice actress for Viola in the game Eternal Sonata. Taylor is a prolific voice actress who also works as a yoga instructor. She was born on September 22, 1968 in New York City, New York, U.S.A. Her works include Valkyrie Profile (both Lenneth and Silmeria), Bleach and Star Ocean: The Last Hope.
Selected works
Edit
Guild Wars 2
Tales of Vesperia
Teenage Mutant Ninja Turtles
Naruto
Sonic X
External links
Edit
Ad blocker interference detected!
Wikia is a free-to-use site that makes money from advertising. We have a modified experience for viewers using ad blockers

Wikia is not accessible if you've made further modifications. Remove the custom ad blocker rule(s) and the page will load as expected.