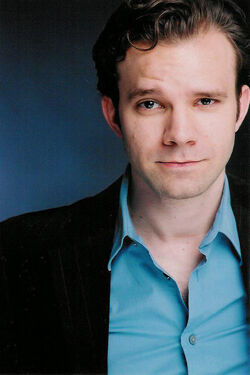 Liam O'Brien is a U.S.-born voice actor who is known largely for his roles in video games, but who has also provided voices for a number of anime series, and whose work also includes a number of writer and voice director credits. In the English-language version of Eternal Sonata, O'Brien provided the voice of the main antagonist, Count Waltz. His recent work includes providing the voice of Caius Ballad, the primary antagonist in Final Fantasy XIII-2 and Marchosias in Rise of Nightmares, as well as providing the voiceovers in commercials for the snack Wonderful Pistachios. He tends to be given antagonist or villain roles due to his unique voice, but he has occasionally played the part of kinder characters such as Vayne Aurelious from Mana Khemia: Alchemists of Al-Revis.
O'Brien was born May 28, 1976 in Belleville, New Jersey, U.S.A. He is married to Amy Kincaid and has a child named Owen Kincaid O'Brien.
Selected works
Edit
Asura's Wrath - Asura
Dissidia 012: Final Fantasy - Kain Highwind
Wolverine and the X-Men - Kurt Wagner / Nightcrawler / Warren Worthington III
Tales of Vesperia - Cumore
Baten Kaitos Origins - Krumly
Final Fantasy VII: Advent Children - Red XIII
.hack//Legend of the Twilight - Tom
Patlabor: The Movie - Detective Kataoka
External links
Edit
Ad blocker interference detected!
Wikia is a free-to-use site that makes money from advertising. We have a modified experience for viewers using ad blockers

Wikia is not accessible if you've made further modifications. Remove the custom ad blocker rule(s) and the page will load as expected.