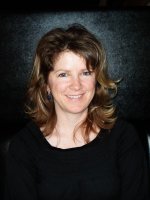 Julie Ann Taylor is the English-language voice actress for Falsetto in the game Eternal Sonata. Taylor is a wide-ranging voice actress whose work includes such titles as Love Hina and Soul Calibur IV as well as games such as Wild Arms 4. She was born on August 30, 1961 in Fort Irwin, California, U.S.A.
Selected works
Edit
Bleach
Ghost in the Shell: Stand Alone Complex
Immortal Grand Prix
Please Teacher
Rurouni Kenshin
External links
Edit
Ad blocker interference detected!
Wikia is a free-to-use site that makes money from advertising. We have a modified experience for viewers using ad blockers

Wikia is not accessible if you've made further modifications. Remove the custom ad blocker rule(s) and the page will load as expected.