"Perhaps the world I thought of as reality was in fact nothing more than a dream. But then would that mean the cities of Warsaw and Paris do not exist?"

This article deals with a real-world subject, such as a person, place or musical composition, that is presented within the game of Eternal Sonata. As such, details contained within this article may differ from real-world facts, and will generally focus on the material as presented in-game.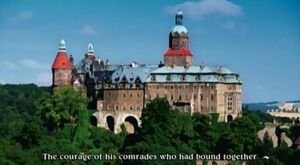 Heroic Polonaise (Polonaise No. 6 "Heroique" A-Flat Op. 53), also referred to in-game as simply Heroic, is a piano piece composed by Frederic Chopin.
In Eternal Sonata, "Heroic Polonaise" is presented as a reward for completing the events of the Mysterious Unison dungeon by beating its final boss, Annihilator. It is explained that "polonaise" means "Polish," and the piece is intended to represent Poland's greatness. The piece was composed in 1842, when Chopin was suffering from a flare-up of his tuberculosis. He was living in Nohant, a peaceful place where he could escape from his fame and compose with a pastoral view similar to that of the village of Zelazowa Wola, where he was born. The piece is an eloquent answer to the question of just how much Chopin loved his homeland.
Real World
Edit
The piece is one of Chopin's most renowned, but is also noted as being one of the most challenging to perform. It includes many difficult aspects, such as fast arpeggios and broken chords.[1]
Behind the scenes
Edit
On the game's original soundtrack, "Heroic Polonaise" is Track 8 of the fourth disc.
As a reward for completing Mysterious Unison, this is the only Chopin sequence that is not required in order to complete the game. As such, many casual players will never hear the piece, while others might not obtain it until Encore Mode.
Notes and references
Edit