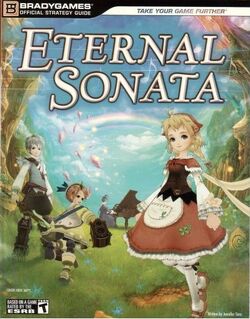 The Eternal Sonata Official Strategy Guide is a strategy guide for Xbox 360 English-language edition of Eternal Sonata by BradyGames. 160 pages, it was released on September 19, 2007. in the United States.
The strategy guide provides detailed maps for each area, includes information on sidequests such as the location of every Score Piece, and provides strategies for each monster and boss. The strategy guide is entirely specific to the original Xbox 360 version of the game and no update was provided for PlayStation 3, though the strategy guide can be used to navigate those elements that were not changed between releases.
Despite the lack of PlayStation 3 information, the guide was generally well reviewed, earning an average of 4.3 stars on Amazon.com as of July 11, 2012. Reviewers were pleased with the detailed maps (as the game itself provides no on-screen map function), as well as the overall thoroughness of the guide. Some, however, felt that the boss strategies were not particularly helpful.
The guide originally retailed for $17.99, but due to relative scarcity, as of July 11, 2012, a used copy of the guide begins at $19.78 and shipping at Amazon.com. New condition begins at $40.99 for paperback, with a new copy featuring an unknown binding at over $200.
The term "Encore Mode" was coined in the official strategy guide and has since passed into popular use amongst fans of the game.
Ad blocker interference detected!
Wikia is a free-to-use site that makes money from advertising. We have a modified experience for viewers using ad blockers

Wikia is not accessible if you've made further modifications. Remove the custom ad blocker rule(s) and the page will load as expected.