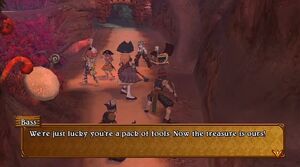 "We're just lucky you're a pack of fools. Now the treasure is ours!"
—Bass's only line in Eternal Sonata
Bass is a pirate serving on the Pirate Ship Dolce in the World of Eternal Sonata under Captain Dolce.
Bass serves Captain Dolce as her 1st Lieutenant. His appearance is that of a Raider Pirate opponent. He seems to be a quiet type, speaking only once within the game despite accompanying Dolce and Guitar in all of their appearances.
Main article: 1st Lieutenant
In battle, Bass carries the same basic attack set and relative stats to a Raider Pirate in comparison with a Warrior Pirate. As such, his defense is rather lower than Guitar's, though still higher than a typical Raider Pirate. Additionally, he can use Guts to revive Guitar, or Grit in the final battle.
Bass's name is only given when he speaks in the final battle against him, Dolce and Guitar in the Woodblock Groves in Encore Mode. If playing a normal playthrough, his name is never given as anything other than "1st Lieutenant."
Etymology
Edit
In music, a bass is both a type of instrument and a type of classical male singing voice. Thus, it makes sense that there would be two characters named Bass.[1]
Notes and references
Edit
Ad blocker interference detected!
Wikia is a free-to-use site that makes money from advertising. We have a modified experience for viewers using ad blockers

Wikia is not accessible if you've made further modifications. Remove the custom ad blocker rule(s) and the page will load as expected.